UPRISE, the new book of chronic back pain expert [and back pain liberation expert] Dr. Sean Wheeler, was the topic of a recent media interview conducted by Christopher Brochon of WFLO-FM in the Richmond, Virginia market.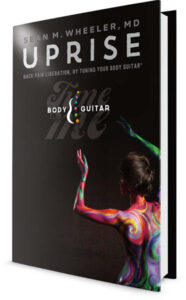 During an in-depth and revealing conversation with his host, and as revealed in his book, Dr. Wheeler discussed his breakthrough findings about the source of chronic low back pain, and how most anyone can achieve liberation from the condition through a new understanding of the cause of the disease.
As Dr. Wheeler described post-interview:
The interview dug deeply into the new medical thinking discussed in UPRISE.

For example, new concepts such as Bracing Muscles and how these muscles must perform all day, compared to Action Muscles which perform only when needed to move, and why this is so very important to understanding the disease.

In addition, the simple idea of how the human body, and particularly the back, resembles a guitar, and how the notion of tuning your Body Guitar can help many make sense of what causes and how to escape the limitations of chronic low back pain.
Listen to the interview in its entirety during the first 17 minutes of this link.