As the Masters golf tournament approaches each year my thoughts turn to Byron Nelson.
As a 'marginally' famous back pain and sports medicine doctor, I often get to care for patients who are actually famous.
I have pictures and mementos from these patients, but I only have one that hangs in one of my patient rooms.
I met Lord Byron, as he was known to the golfing world, through a friend and saw him a few times as a patient.
He was the consummate gentleman.
I would ask him about his life and he would answer as if it was unimportant and then stop and ask me about my life as if it was much more interesting than his.
I brought my kids with me on one of our visits and it was very important to him that they got a picture with him. Each visit would end with him asking to see my golf swing followed by a few suggestions.
When I told him that I was moving back to Kansas City he went into his house and retrieved a framed picture off of his wall of him and Tom Watson (a Kansas City native) practicing at the Masters.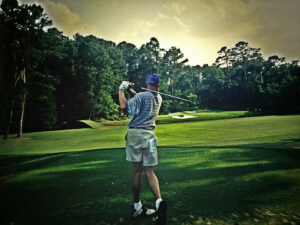 I always felt that Mr. Watson should have this picture but I have never had the opportunity to give it to him.
A couple months later I received a call from his wife asking if I would be able to come to the Masters with them and take care of him for the week. Stunned I asked for details and then asked if this would include going to the Champion's Dinner.
This is the dinner hosted by the previous year's champion for all the previous champions. It is extremely exclusive. They assured me that this was possible.
I had been a volunteer at the Master's tournament the few years before that and had played the course a couple times, but this was an entirely different deal.
Byron Nelson had played in the second Master's tournament in 1935. He had won the 1937 and 1942 tournaments. In 1945 he had his legendary season where he won 18 tournaments including 11 straight at one point.
He then had raised enough money to buy a ranch that he and his wife wanted and he retired in 1946.
Two weeks before we were set to leave for the tournament I called his wife to set some final arrangements and she informed me that he had fallen sick and was in the hospital.
The trip was off and I was disappointed, but hoped that, even at age 94 maybe we could go back the next year.
I sent him some Kansas City BBQ during the summer and got a nice letter back, but the handwriting was much shakier.
Then in September of 2006 I learned from the news that he had died.
The world lost a golfing icon that day.
Many may have thought that they lost a great golfer from 60 years previous. What they really lost was a great soul who happened to play golf.
I remember the day that his wife called and asked for assistance at the tournament most of all.
It was as if the history of golf reached out to me personally. Invited me in.
When I watch the master's on television I often feel the same way.
I think we all do.